Ta Techneta means Tools.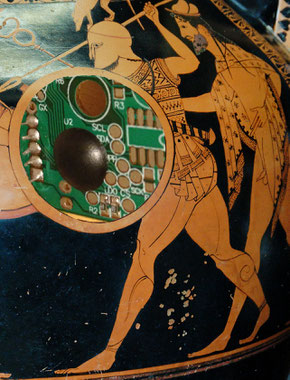 M4L-Device: SPHINX
Set-up:
Video Tutorial:
The (mythological) Sphinx used to terrorize the lands around the polis Thebes. It would ask passers-by trick questions and devour them if they were unable to answer. Oedipus put an end to her reign and thus became king of Thebes.
This Device devours any audio files you feed it and turns them into riddles by making them a wavetable you can freely move about.
Demo: Archae uses the Sphinx for the intro. The main melody and other elements are also created using it.
M4L-Device: SPHAIRA
Set-up:
1. Download the MAX-Device by clicking the image above
2a. Download the MAX demo (MAX runtime will stay free even after 30 days) at https://cycling74.com/downloads/
3a. Open the MAX-Patch with MAX!
If you don't want to have to install MAX and you are operating on MacOS, you can alternatetively download it...

Here, as a compiled program everyone can open
(108MB, only works on Apple Computers)
2b. Right-Click the application and choose "open..."
Video Tutorial:
σφαίρα

It's your own little solar system/Music-of-the-spheres generator using FM Synthesis and a system of tweakable planets that generate sound and a soothing video show. For more info on what exactly it does and a short primer on ancient astronomy and what the heck Music of the Spheres even is, check out my latest Newsletter!